Tiger News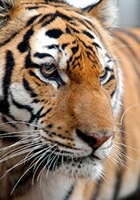 Noxubee Co. Tigers In the News
Turnovers prove costly for Trojans

By Ryan Satcher / special to the star

Noxubee County turned a pair of Northast Lauderdale turnovers into points to pick up a 23-14 win over the homestanding Trojans on Friday night in the Region 4-4A opener for both teams.

"In big games, the team with fewer mistakes and the team that doesn't get hurt by their mistakes is the team that wins the game," Northeast coach Steve Nelson said.

"We got an interception in the first quarter and drove down and fumbled at the 9 and they drove back down the field 91 yards. Then in the third they fumbled and we fumbled it right back to them. When we made mistakes, they capitalized and when they made mistakes they bowed up and stopped us. I'm proud of my kids. It just wasn't meant to be for us tonight."

Noxubee County scored 17 unanswered points in the second half after falling behind Northeast 14-6.

"They kept playing," Noxubee coach M.C. Miller said of his team. "They didn't give up and kept fighting against a good Northeast team."

For more of this article visit The Meridian Star at http://www.meridianstar.com/sports/local_story_259021313.html
TIGER'S RIDE WAVE UNTIL FINAL MINUTE

BY: The Realist

Noxubee County entered the season unranked and unknown to many outside the Golden Triangle area. After Friday night's game against the Greenwaves of West Point ranked 5th in Mississippi's Top Ten poll, I'm sure that is all about to change.

The Tigers open the season taking on the reigning champions, West Point Greenwaves. An highly anticipated battle of two good programs in 4A football, got off to defense struggle as both team joisted for field position in the 1st Quarter leaving the score 0-0.

The Noxubee County defense held strong until the middle of the 2nd quarter when West Point QB Jamar Shelton rush through the Tiger defense for a 73 yd TD run putting the Greenwave up six point before the following PAT would make it 7-0.

Noxubee Co. implementing a new offense against the Greenwave had trouble early on moving the football. Near the end the of the 2nd quarter, senior QB Demarcus Thomas of Noxubee found WR Patrick Patterson streaking up the sideline connecting on what many believed was a Touchdown in the corner of the endzone. The catch was called incomplete due to referee judgment that he would not have come down inbounds. The Tigers had to settle being down 10-0 at the half.

After half team, Noxubee Co. defense held West Point to a three an out possession giving way to a more focused offense. The Tigers open the second half with more emphasis on their passing attack. It wasn't until the 4th quarter that the offense would gel before scoring their first touchdown of the evening on an 11 yard pass from Thomas to Patterson making the score 10-6. The Tigers connected on the 2pt conversion putting the Tigers down two points.

With only 1:44 remaining, the Tigers defense held West Point to zero yards on a fourth and inches play near the 39yd line. The Noxubee offense then took the field moving the ball inside the 10yd line from consecutive passes from Thomas to Patterson, RB Demarcus Harmon, and RB Courtney Shields.

The Tigers positioned themselves to go for the win on a fourth and goal before a bad snap and run would turn the ball back over to the Greenwave. West Point then took three kneel down ending the heartbreaking game at a score of 10-8.

Next week the Tigers look to get back on track as they travel to Quitman, MS for their second game of the '06 season.
Colonels may depend more on special team's this season

Raymond Legendre
Staff Writer

THIBODAUX -- With its wealth of playmakers on both offense and defense last season, Nicholls State didn't need its special teams units, filled with inexperienced players, to make game-changing plays.

This season, special teamers, particularly in the return game, likely need to go from holding serve, to producing an ace or two to take pressure off the Colonels' offense and defense.

Thomas' toughest decision this fall was one of special significance, picking which daredevil he thought would not only survive the rigors of being a punt returner, but also thrive as one.

When preseason camp started, Thomas said he had 10 to 12 prospects for the job.

After his staff videotaped the hopefuls returning punts, the third-year coach whittled his list down to three players: Junior college transfers Grant Thorne (5-foot-11, 195) and Lester Brooks (6-1, 205) and Ole Miss transfer Kareem Moore. All three are likely to return punts for the Colonels, who were second to last in the Southland Conference in punt return average in 2005.



The name that sticks out here is Lester Brooks, a '04 Noxubee Co. graduate. Brooks was a three year letterman for the Tigers. After graduating he went on to play two years at Itawamba Community College before signing on at Nicholls State.


Coaches have had nice things to say about his defensive back duties but they are really hoping he can come around in the return area. "He's got to have a quick first step and then he's got to get what he can get out of it," Thomas said of his punt returner.

"He's got to have a little jitterbug in him to avoid guys coming at him at full speed. And he's got to be a daredevil."

All of this suites the once 5'10 170lb Brooks, just fine. Mr. Brooks is just one of many Mississippian that will contribute to the Colonels success.
Doing talk and walk

Former QB Conner makes smooth move to WR

By Ian R. Rapoport
irapopor@clarionledger.com


STARKVILLE — Quarterbacks can't talk trash. They just can't.

With all their physical and mental responsibilities, with all their teammates looking to them for guidance in the most desperate situations, they must be a portrait of composure.

For nearly two years, that's what Mississippi State's Omarr Conner was - calm and quiet. It was a struggle for the effusive, emotional player. But that was his role, so that's how he was.

Then came the Bulldogs' 13-7 loss to Kentucky on Oct. 29 of last year. Conner was replaced at quarterback by Michael Henig, and everything changed. Not just his position, though he made the full-time move to receiver one game later.

As if a weight had been lifted off his shoulders, at a new position that seemed to encourage cockiness, Conner was re-born as a player and as a personality.

"That's what you see - he can just be Omarr and really enjoy himself," receivers coach Guy Holliday said. "Obviously, there is a lot more pressure on you at the quarterback position. You are just in a different frame of mind. Now, he just plays."

Conner's adjustment to his new job has been seamless. In the final two games of 2005, he made nine catches for 116 yards, an average of 12.9 yards per catch.

Now, even with MSU's infusion of tall junior college receivers Tony Burks and Ryan Mason, Conner is the top receiver. His personality hasn't been the only beneficiary of the move.

"He's our number one guy that the offense can be built around," coach Sylvester Croom said. "He's got the best hands, he's getting more disciplined in his route-running, and he takes a lot of pride in what he does. In certain situations, everyone is going to know Omarr is the guy we're looking for."

For more of this article go to http://www.clarionledger.com/apps/pbcs.dll/article?AID=/20060824/SPORTS030102/608240350/0/SPORTS
Dancy First-Team Preseason All-Conference Defense
By: The Realist
The Southwestern Athletic Conference recently selected its 2006 Preseason All-Conference Football Team with Jackson State defensive back Vincent Dancy taking in some top honors. The team was selected by nominations and votes from the member schools' coaches and sports information contacts.
Vincent Dancy, a Shuqualak native, is a Senior for this upcoming season for the Tigers of Jackson State. A standout player his four years at Noxubee Co. High, Dancy has not taken his foot off his opponents. At 6'3 218 lbs, Dancy heads into the '06 season with aspiration of leaving Jackson State as one of the most prolific defensive players in school history.
That's a hard feat for most considering all the talent that has roamed Veteran Memorial Stadium for JSU. Dancy seems to have the formula to pull off such a wonder. Dancy arrived at Jackson State as a highly sought after cornerback since then he has played every position on the Tiger Defense except defensive tackle.
As a member of The Clarion-Ledger Top 40 list as a senior at Noxubee, the multi-talented Dancy played receiver, cornerback, safety and returned kickoffs and punts. Dancy has solidified himself in new Head Coach Rick Comegy defense as a hybrid safety.
Coach Comegy's defensive philosophy use Dancy much like the Pittsburgh Steelers use Troy Polamalu. Totaling 106 tackles the '05 season this can onl mean more trips to the hot tub for opposing ball carriers.
Dancy's Career Progression:
Redshirt Freshman (2003 season)
Started at strong side linebacker for the majority of the season ... played in 11 games ... ranked second on the team and in the top 20 in the SWAC in tackles ... was second on the team in tackles for loss with seven ... had a team-high sack percentage, pinning three quarterbacks for 16 yards ... recorded one interception, four pass breakups, and seven quarterback hurries.
Sophomore(2004 season)
2nd Team Preseason All-Swac..
Junior (2005 season)
1st Team All Swac
1st Team Blackathlete.net HBC All-American
2nd Team NCAA D-1AA Southwest All-Region
Jamison good to go

Noxubee County linebacker eager to assist quick turnaround for JSU Subhead

By Todd Kelly
tkelly@clarionledger.com


RAYMOND — Marcus Jamison has spent the past six weeks running sprints and lifting weights at Jackson State, relentlessly preparing himself for his introduction to college football.

On Friday night, Jamison is determined to send one final message to his future coaches: My time is now.

"I'd hate to miss a year of football by redshirting," Jamison said Wednesday as he and his North teammates practiced at Hinds Community College for the 57th annual Bernard Blackwell All-Star Classic. "If Coach (Rick) Comegy comes in and says that, I'm going to ask him what I have to do to change his mind. I want to show the (JSU) coaches that I'm ready to play even before two-a-days kick off."

According to Comegy, Jamison - who has met NCAA freshman eligibility requirements - may not have to wait long at all. The Tigers, who graduated two starting linebackers from last year's 2-9 debacle that cost James Bell his job, open the season at home Sept. 2 against Paul Quinn.

"We're looking for good things out of Marcus Jamison," said Comegy, who inherited a tradition-rich program that was just 8-26 over the last three years. "He's got great movement. He'll come right up and lay the hat on you without thinking twice.

"We want to get back to the days when Jackson State had real blue-chippers - and I think we're starting to find a few of those guys."

Jamison's combination of talent and desire is plenty familiar to his coaches at Noxubee County, who sing his praises for his demeanor both on and off the field.

"Marcus has the best work habits I've seen in 33 years of coaching," Noxubee coach M.C. Miller said. "He'd get upset if he couldn't come in the weightroom and lift every day. He made sure the other players were serious about it, too. You never had to worry about him getting in trouble - and he'd stop other kids from getting in trouble."

To read more go to http://www.clarionledger.com/apps/pbcs.dll/article?AID=/20060720/SPORTS06/607200363/1117